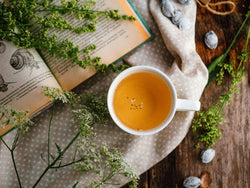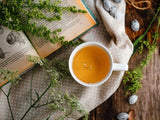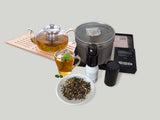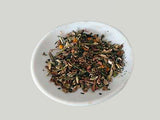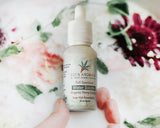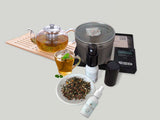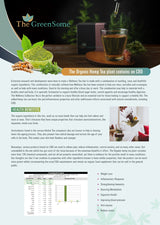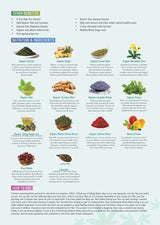 CleverBotanics
Made from soothing, healthful organic ingredients.  This combination of naturally caffeine-free Wellness Tea has been created to help you relax, revitalise and re-energise as well as help with many conditions.  Good in the morning and after a busy day at work.  The combination may help to maintain both a healthy mind and body.  Specially formulated to support healthy blood sugar levels, control appetite and encourage healthy digestion.  The Wellness Collection Tea is the perfect antidote to a busy lifestyle and an essential tool for those looking to support a healthy life. 
The product comes in 3 variants;
Royal Tea Collection Pure;

Royal Tea Collection with Hemp Tea;

Royal Tea Collection with 10ml Water Soluble CBD;
The added hemp tea can boost the anti-inflammatory properties and other well-known effects associated with natural components in the Tea.  If you are already consuming other CBD products, then no need for Water Soluble or added hemp tea as the taste becomes somewhat medicinal due to the hemp extract's naturally bitter taste.

BIG SALE

50g - 
ONLY £28 
(after discount) (no hemp tea)
50g

- 
ONLY £32 
(after discount) (with 5g of hemp tea to add to each brew)
50g + 10ml WaterSoluble
-
ONLY £44
(after discount)
Please use Discount Code "Autumn20
"


Health Benefits
The organic ingredients work on so many levels that can help one feel
calmer and more at ease. That's because they have unique properties that stimulate neurotransmitters, like dopamine, inside your brain.

Antioxidants found in herbal Tea, are also known to help in slowing down the ageing
process. They also prevent free radical damage and restore the age of
your cells in the body. This makes your skin look flawless and younger.

Nowadays, various products based on CBD are used to relieve pain, reduce inflammation, control anxiety, and so many other cases. But cannabidiol is the one which has got most of the focus because of the numerous benefits it offers. The Organic hemp tea plant contains more than 130 chemical compounds, and not all are properly researched, yet there is evidence for the positive result in many conditions.

Weight Loss
No matter how slim a person is, they would always want to lose more weight. Herbal Tea is rich in functional ingredients like psyllium husk, fennel and lemongrass help you to burn fats and also help in boosting metabolism.

Inflammatory Response
The herbal teas contain anti-inflammatory properties to help relieve everything from gastrointestinal distress and arthritis to headaches and haemorrhoids. Herbal teas like peppermint, ginger, turmeric and eucalyptus are great for inflammatory problems. Many of the ten ingredients in the mix, work together to support a healthy inflammatory
response, along with the many other well-known benefits.
Strengthening Immunity
Major studies show that antioxidants can support "immune cell function". They result in more immunity and better overall health.
Boosting Metabolism
The antioxidants in many of the ingredients have been known to support metabolism. This could help give you more energy. It will offer appetite control.
Digestive Health
Many of the ingredients support a healthy inflammatory response and give the
body antioxidant support, and they could also help maintain healthy digestion.

Improving blood pressure
It improves blood pressure and circulation and boosts good cholesterol while lowering bad cholesterol. 
Anti-nausea
For people who regularly suffer from nausea and vomiting, herbal teas will work magically for them. Because it provides almost instant relief from nausea, pregnant women should drink a couple of glasses of Herbal Tea daily.
Relieve stress
Herbal tea, like chamomile tea, is best to release stress and treat insomnia. It also soothes the mind and releases chemicals in the brain that fight anxiety and depression. It can also act as a mild antidepressant for those who suffer from depression. 
Other benefits
It Can Help You Unwind

Boosts Your Immune System

Help Reduce Pain and Soreness

Help with anxiety and other milder mental health issues


Improve Your Digestive System

It may stimulate brain function

Organic and almost Calorie-Free.

Healthy Blood Sugar level

Anti-ageing properties

Nutrition & Ingredients
Organic Sencha
Rich and earthy, sencha green tea is Japan's most popular green Tea and currently accounts for more than 60% of the country's tea production. Historically it's been used for centuries to fight off disease and infection, fortify the immune system, and aid weight loss. Sencha green tea was first brought to Japan from China in the 17th century and has remained a beloved option ever since. The flavour profiles of Japanese sencha green teas offer a verdant flavour, typically prepared unflavored and therefore suits the combination we have developed. The blend of vitamins, minerals and antioxidants will give you natural energy without a crash and support cognitive health.
Organic Ginger
Ginger is a spicy root plant that has been used in cooking and Medicine since antiquity. Not only has ginger become a delicious addition to cooking because of its spicy and unique flavour, but it's also great for your health. Its inflammatory response properties are excellent for supporting a healthy immune system, managing pain and improving digestion. Ginger can also help support healthy blood sugar levels and promote an insulin response. Also, It remains a popular home remedy for nausea, stomach pain, and other health issues.
Organic Fennel Seed
Fennel seeds are spices harvested from one of several types of herb fennel plants.  They have a sweet, potent flavour that's similar to liquorice.  Fennel seeds have traditionally been used in Italian cooking.  However, they can be used in all types of food, and in recent years, Western culture has opened its doors to creative uses of fennel seeds in recipes.  These nutrient-rich seeds are loaded with vitamins and minerals like Copper, Zinc, Calcium, Magnesium, Potassium, Iron, and Vitamin C.  They are commonly eaten after meals to aid digestion and freshen breath but have also been found to regulate blood pressure levels, control irregular heart rate and reduce water retention.


Organic Dandelion Root
Dandelion has been cultivated for its culinary and medicinal benefits for centuries, and modern science has even begun corroborating some of the claims traditionally made about dandelion. In parts of Europe and Asia, it's known as a folk remedy for Urinary Tract,  Infections' Inflammation' Detoxing the Body and The Common Cold. In many parts of the world, fennel seeds are used medicinally to treat everything from menstrual cramps to bad gas. Some of these uses have been confirmed by research, while others are still being tested.
Organic Tulsi
Tulsi, otherwise known as 'Holy Basil', has been used in Southeast Asia for Holistic Medicine for over 5,000 years. This therapeutic herb may help Oral Health and reduce stress and anxiety by regulating cortisol levels and Respiratory Health. It is claimed that it may help support healthy cholesterol, blood pressure and heart health.  Tulsi benefits from many types of stress, including physical, mental and metabolic. In the case of physical stress, Tulsi is a powerful antioxidant, supporting the body in its efforts to detoxify. It enhances the activity of endogenous antioxidants and antioxidant enzymes such as glutathione and superoxide-dismutase.
Organic Turmeric Root
This brightly coloured spice is one of the most powerful ingredients on the planet for supporting your body's natural inflammatory response, which helps prevent chronic illnesses, including heart disease, cancer, Alzheimer's and more. Studies show that it may also slow the ageing process and support longevity. In addition, turmeric has also been shown to lower cholesterol and triglycerides in people at risk of heart disease and improve blood pressure. Antioxidants in turmeric may also reduce the risk of cataracts, glaucoma and macular degeneration.  Combined with the other ingredients, it should make the best tea to drink.
Organic Lavender Petals
People usually associate lavender with two specific traits: fragrance and colour. The aroma has long been used to manage stress and promote a restful night's sleep naturally and has been found to aid digestion, decrease bloating and support healthy blood sugar levels. But you may not know that the lavender flower and the oil derived from it have long histories in herbal medicine. The word lavender comes from the Latin root "lavare," which means "to wash." The earliest recorded use of lavender dates back to ancient Egypt. These sweet-smelling petals contribute to the smooth and relaxing flavour while aiding your body in combating dry skin, inflammation and free radicals. The power amplifies the helpful benefits when combined with the other ingredients in the mix.
Organic Stevia
There are many benefits of Stevia to people living with diabetes. This natural sweetener can suppress glucose levels, significantly increase glucose tolerance and stabilise blood sugar levels. Artificial sweeteners such as saccharin can raise blood sugar and change the gut's bacterial composition, which can cause glucose intolerance. Many studies show that people within the normal weight range who consume artificial sweeteners are at a higher risk of developing diabetes than overweight people who refrain from sugar. We also use this as a sugar substitute to enhance the taste of the tea without the adverse side effects of sugar or artificial sweeteners. Stevia has been found to reduce bad cholesterol and can be used to support healthy glucose and insulin response.
Organic Hemp Flower tea
Hemp, as a versatile plant, is known to have a vast number of uses dating back thousands of years. Evidence of hemp cultivation dates back over 12000 years in China. The full-spectrum CBD hemp flower refers to herbs that not only contain CBD but all the other helpful components for many medical conditions. Hemp tea is made using hemp leaves or flower buds. It has a greenish-brown colour and a bitter flavour, which on its own is not very popular to consume as tea. However, combined with our carefully picked combination, it works well and is a much tastier product than when consumed on its own
Organic Nettle (Urtica Docia)

Scientific research into nettle tea is rather limited. Most studies focus on dried nettle leaves or nettle tinctures. However, crowdsourced data shows that Tea has vitamins C, D, and K minerals such as iron, selenium, zinc, and magnesium fatty acids, such as alpha-linolenic acid antioxidants, such as polyphenols, carotenoids, and terpenoids.
Rose Petal Tea

Adding rose petals to loose leaf tea gives the tea a mellow, floral flavour. Some of the many benefits of rose petals include; Reducing Anxiety, Improving digestion, and Soothing menstrual cramps. It is also high in antioxidants, and vitamin C.
Lavender Tea

Lavender is one of the most beautiful plants in the world.  From lavender essential oil to lavender soaps and scents, this vibrant lilac-coloured plant never fails to make a statement.  Yet, the most beloved is lavender Tea, known for its calming effects, which makes it an ideal bedtime tea. The best benefits of lavender Tea may include relaxing the body, reducing muscle spasms, promoting healthy digestion, and aiding sleep.  It might also help eliminate inflammation, balance mood, heal the skin, and soothe chronic pain.
Organic  Saffron Flavor
The domesticated saffron crocus, Crocus sativus, commonly known as saffron crocus, or autumn crocus, is an autumn-flowering perennial plant unknown in the wild. It probably originated from the Neyshaboor and Southeast Asia area in Persia and in smaller quantities in eastern Mediterranea. Autumn-flowering Crocus cartwrightianus, is also known as "wild saffron" and originated in Persia and can also be cultivated in smaller quantities in Spain, India and mainland Greece. 

Natural Flavor
A wonderful essence of citrus essential oil splashed over this wonderful blend gives it a wonderful aroma and a flavour that is hard to forget.
How to Use
The best recommendation we have for this blend is to prepare a 200ml cup of boiling water. Ideally, the Tea is consumed in a glass teapot with Stainless Steel Tea Ball Mesh Tea Infuser Strainer. Or the traditional glass pots that have a built-in fine sieve. Wait up to 5 minutes, depending on how strong you'd like your Tea. Anything over 5 minutes still is good, but the taste does change a little. Our testers left it in the pot for five hours and added boiling water, and the Tea was still lovely. We'd advise having your first cup early morning, a second after lunch, and, if needed, a third early afternoon. This Tea should be drunk as part of a balanced diet. Seek professional advice before using if you are under medical supervision.
Please note the following;

You may need advice from a nutritionist if you are pregnant or breastfeeding. Keep in a dry place, out of sight and reach of children.
The statements above have NOT been evaluated by the FDA. This product is not intended to diagnose, treat, cure, or prevent any disease. The description and the comments on health benefits are not scientifically proven and are based on the crowdsourced data available on the web.

Please give particular attention to the ingredients listed above if you have particular food allergies. The ingredients are sourced from more than one country, and there is no guarantee that the method of drying is nut-free. Small contaminations of other ingredients may exist in the tea. If you are severely allergic to various food products, then this tea is not for you.
Please check the instructions and specifications for Eden Aromata Wellness Tea Collection 
Note that both DPD/UPS require to have both your Email address and Mobile phone number for Track and Trace or if their driver needs to phone you. Please note that Saturday delivery by R.M. is not guaranteed due to COVID.
Delivery for the inland U.K. is from £3.90 for Tracked 48 (2-4 working days) & £4.90 for Tracked 24 (1-2 working days). For a small number of E.U. countries, the price is from £22.00. The rest of the world is 6-15 working days and please ask for details since we are not sure which country's custom is accepting the products and we need to research per request. Please note that due to fast-changing regulations, some E.U. states now reject CBD or Hemp related products. All European orders above £180 will be sent by DHL, which takes less than three days anywhere in Europe. There is no extra cost for you for using DHL. We will cover the excess charges beyond Royal Mail's £14. Please add a note and ask for the service at the checkout.  
Please note that during January due to high volume and COVID disruptions, We switch between providers to ensure prompt delivery. No weekend fulfilment due to COVID and will be shipped or Monday Morning.
Important Notice: Shipping to all EU countries are much more difficult and if you intend to purchase, please email us so we can explain the process. Sales (at) cleverbotanics.com

Normally, to be sure of next day delivery chances being high, please place your order before 9:30 am. We will do our best to make the 12:00 noon dispatch by Royal Mail. Also, if it is a not so busy day, then orders arriving before 3:00 pm could make 4:30 pm deadline, but this is not a guarantee, and we can only do our best. Also, please note that while Royal Mail has been good so far in delivering 90% of packages on time. There are 10% that are currently taking longer to reach you. 2% of shipments are also now lost in their system up from 1% before COVID disruptions. We will work with Royal Mail and yourself to resend the small number of missing packages. See the Blog "Impact of (COVID-19) Pandemic @CleverBotanics".
You can return your product up to 14 days after receiving your order. Please ensure that the products are NOT dismantled, or the seal is broken when relevant. Also, certain products, once exposed to air, will not qualify for returns.
We have now made it a policy to ensure all our shipped products are entirely discrete and no mention of the product name on the Royal Mail Dispatch Note. As a company whose primary mission is to reduce waste and be as close to zero-waste as possible, we have spent a lot of time looking at eco-friendly packaging options. We ensure that all the packaging is biodegradable and 99% plastic free.
This product is not for use by or sale to persons under the age of 18. This product should be used only as directed on the label. It should not be used if you are pregnant or nursing. Consult with a physician before use if you have a serious medical condition or use prescription medications. A Doctor's advice should be sought before using this and any supplemental dietary product. All trademarks and copyrights are the property of their respective owners and are not affiliated with nor do they endorse this product. These statements have not been evaluated by the FDA or EMA or the official Medicines Agency for your country. This product is not intended to diagnose, treat, cure or prevent any disease. Individual weight loss results will vary. By using this site, you agree to follow the Privacy Policy and all Terms & Conditions visible under T&C in the main menu. Void Where Prohibited by Law.