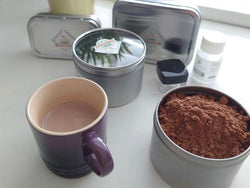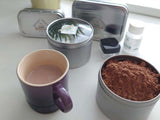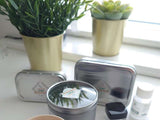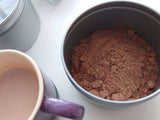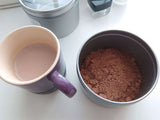 Welcome to the world of Royal CBD Cacao Blend! We are excited to introduce our newest product which combines the delicious taste of cacao with the powerful benefits of CBD. Our blend is carefully crafted using high-quality ingredients to provide you with a unique and enjoyable experience.
The Royal CBD Cacao Blend is more than just a tasty treat. It contains all-natural, organic ingredients that work together to promote relaxation, reduce stress, and improve overall well-being. With every sip, you'll feel the calming effects of CBD, making it the perfect addition to your daily routine.
BIG SALE
70g - ONLY £44  (after discount)

The cacao beans are packaged in resealable LDPE pouches, which are recyclable. This packaging helps to maintain the freshness of the cacao beans and allows for easy storage. While the packaging design may vary, the contents inside remain the same, delivering premium organic raw cacao beans.
Please remember to follow the recommended serving sizes and consult a healthcare professional if you have any specific dietary concerns or health conditions.
Flavour: The cacao beans have a flavour profile that combines the bitterness of cacao with fruity notes.
Brand: The product is from the brand Edenaromata, known for providing organic and high-quality food products.
Item Weight: The package contains 1 kilogram of cacao beans.
Speciality: The cacao beans are certified organic, indicating that they are produced following organic farming practices.
Item Form: The cacao beans are broken into pieces, making them suitable for various uses.
Number of Pieces: The package contains one large piece of cacao beans.
Sweetness: The flavour of the cacao beans is described as bittersweet.
Nutritional Benefits: The cacao beans are high in fibre and contain other nutrients, making them a healthy snack option. They can also be added to smoothies, desserts, and cereals and used in baking.
Raw Processing: The cacao beans are processed at temperatures below 45 degrees Celsius, ensuring that the heat-sensitive nutrients are retained.
Pure and Allergen-Free: The cacao beans are 100% pure with no additives. They are free from common allergens. They are certified organic by the UK Soil Association, indicating adherence to organic standards.
Sustainability and Safety: The production practices employed are environmentally sustainable. The cacao beans are GMO-free and non-irradiated. They are tested for heavy metals and mycotoxins, ensuring product safety.
Packaging: The cacao beans are supplied in resealable recyclable LDPE pouches that can be recycled alongside bags at the supermarket. The packaging may vary, but the contents remain the same.
The Journey
Organic cacao starts with the cultivation of cacao trees in tropical regions using organic farming practices. The ripe cacao pods are harvested by hand, and the beans undergo fermentation to develop flavour and remove bitterness. After drying, the beans are winnowed to remove the husk, resulting in cacao nibs. These nibs are then packaged and distributed, providing a nutritious and flavorful ingredient for various recipes. The journey encompasses organic cultivation, fermentation, drying, processing, and packaging.
Why Choose the Royal CBD Cacao Blend?
The Royal CBD Cacao Blend is the perfect choice for those who want to enjoy the benefits of CBD in a delicious and effective way.
Our unique blend of high-quality ingredients ensures that you get the most out of your CBD experience. With a rich, chocolatey taste and all-natural ingredients, our product is sure to satisfy even the most discerning customer.
What are Royal Organic Cacao Blend?
The Royal CBD Cacao Blend is a unique product that combines the benefits of CBD with the delicious taste of Cacao. Made with high-quality ingredients, this blend is designed to provide a natural way to support your health and wellness.
Each serving of the Royal CBD Cacao Blend contains a precise dose of CBD, which is known for its calming and relaxing properties. The blend also contains cacao, which is rich in antioxidants and can help improve your mood and energy levels. Together, these ingredients create a powerful combination that can help you feel your best.
To use the Royal CBD Cacao Blend, simply mix one scoop of the powder with eight ounces of hot water or milk. Stir well until the powder is fully dissolved.
For best results, it's recommended to take the Royal CBD Cacao Blend once per day, either in the morning or at night. The dosage can be adjusted based on individual needs and preferences.
Health Benefits of Organic CBD Cocoa Blend
Organic CBD cocoa blend is a natural and healthy way to enjoy the benefits of CBD. CBD, or cannabidiol, is a non-psychoactive compound found in the hemp plant that has been shown to have numerous health benefits. When combined with cocoa, it creates a delicious and nutritious blend that can help support overall health and wellness.
One of the key benefits of organic CBD cocoa blend is its ability to promote relaxation and reduce stress. CBD has been shown to have anxiolytic effects, meaning it can help reduce anxiety and promote a sense of calm. This makes it an excellent choice for those who struggle with stress and anxiety on a daily basis. Additionally, cocoa contains flavonoids that have been shown to have antioxidant properties, which can help protect against oxidative stress and inflammation.
Ways to Incorporate Organic CBD Cocoa Blend
Add a scoop of Royal CBD Cocoa Blend to your morning coffee (reduced portion) to boost energy and focus. The combination of caffeine and CBD can help you start your day on the right foot.
Mix Royal CBD Cocoa Blend into your favourite smoothie recipe for a delicious and nutritious treat. The blend is packed with antioxidants and anti-inflammatory compounds that can support overall health and wellness.
Live your best life naturally with Royal CBD Cocoa Blend
Royal CBD Cocoa Blend is a natural way to live your best life. It contains organic cocoa and CBD, which work together to provide numerous health benefits.
The organic cocoa in Royal CBD Cocoa Blend is rich in antioxidants, which help protect your body against free radicals that can cause damage to your cells. Meanwhile, the CBD in the blend has been shown to have anti-inflammatory properties, which can help reduce pain and inflammation throughout the body. Together, these two ingredients make for a powerful combination that can help you feel your best.
Conclusion: Why You Should Try Organic Cacao Blend Today
Don't wait any longer to experience the benefits of Royal CBD Cocoa Blend. Our unique blend of organic CBD and cocoa is designed to help you live your best life naturally. With each sip, you'll feel the stress melt away, and your body relax. Plus, our cocoa blend tastes delicious, making it the perfect addition to your daily routine.
Order now and take the first step towards a healthier, happier you. Our team is dedicated to providing you with the highest quality products and customer service. We're confident that you'll love our Royal CBD Cocoa Blend as much as we do. So why wait? Try it today and see the difference for yourself.
Note that both DPD/UPS require to have both your Email address and Mobile phone number for Track and Trace or if their driver needs to phone you. Please note that Saturday delivery by R.M. is not guaranteed due to COVID.
Delivery for the inland U.K. is from £3.90 for Tracked 48 (2-4 working days) & £4.90 for Tracked 24 (1-2 working days). For a small number of E.U. countries, the price is from £22.00. The rest of the world is 6-15 working days and please ask for details since we are not sure which country's custom is accepting the products and we need to research per request. Please note that due to fast-changing regulations, some E.U. states now reject CBD or Hemp related products. All European orders above £180 will be sent by DHL, which takes less than three days anywhere in Europe. There is no extra cost for you for using DHL. We will cover the excess charges beyond Royal Mail's £14. Please add a note and ask for the service at the checkout.  
Please note that during January due to high volume and COVID disruptions, We switch between providers to ensure prompt delivery. No weekend fulfilment due to COVID and will be shipped or Monday Morning.
Important Notice: Shipping to all EU countries are much more difficult and if you intend to purchase, please email us so we can explain the process. Sales (at) cleverbotanics.com

Normally, to be sure of next day delivery chances being high, please place your order before 9:30 am. We will do our best to make the 12:00 noon dispatch by Royal Mail. Also, if it is a not so busy day, then orders arriving before 3:00 pm could make 4:30 pm deadline, but this is not a guarantee, and we can only do our best. Also, please note that while Royal Mail has been good so far in delivering 90% of packages on time. There are 10% that are currently taking longer to reach you. 2% of shipments are also now lost in their system up from 1% before COVID disruptions. We will work with Royal Mail and yourself to resend the small number of missing packages. See the Blog "Impact of (COVID-19) Pandemic @CleverBotanics".
You can return your product up to 14 days after receiving your order. Please ensure that the products are NOT dismantled, or the seal is broken when relevant. Also, certain products, once exposed to air, will not qualify for returns.
We have now made it a policy to ensure all our shipped products are entirely discrete and no mention of the product name on the Royal Mail Dispatch Note. As a company whose primary mission is to reduce waste and be as close to zero-waste as possible, we have spent a lot of time looking at eco-friendly packaging options. We ensure that all the packaging is biodegradable and 99% plastic free.
This product is not for use by or sale to persons under the age of 18. This product should be used only as directed on the label. It should not be used if you are pregnant or nursing. Consult with a physician before use if you have a serious medical condition or use prescription medications. A Doctor's advice should be sought before using this and any supplemental dietary product. All trademarks and copyrights are the property of their respective owners and are not affiliated with nor do they endorse this product. These statements have not been evaluated by the FDA or EMA or the official Medicines Agency for your country. This product is not intended to diagnose, treat, cure or prevent any disease. Individual weight loss results will vary. By using this site, you agree to follow the Privacy Policy and all Terms & Conditions visible under T&C in the main menu. Void Where Prohibited by Law.