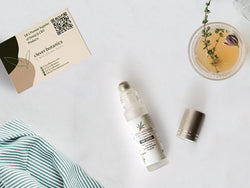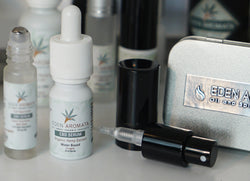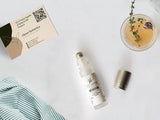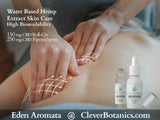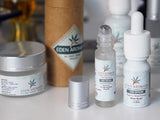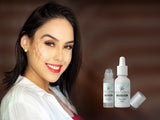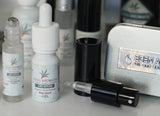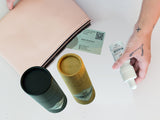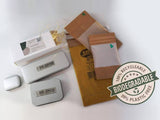 The Hemp Extract CBD Water-Based Spray/Pipette bottle and Roll-On are a new product we have developed that has taken almost one year to produce. The product has the usual approach to understand the importance of high-quality ingredients and the need to scrutinise the processing from seed to final product that was tested on a small number of users that have proven that it works. We are delighted to collaborate with Eden Aromata and Swiss Organic Partners to produce a range of CBD Oil and now water-based Skin Serum Products for CleverBotanics.

@CleverBotanics we are delighted to be able to introduce EdenAromata's Full Spectrum Water-Based Hemp Roll-On 2.5% - 6 ml containing 150mg of Full Spectrum Hemp Oil Extract.  We have also produced the 10ml bottle with a pipette and spray pump option for application on a larger surface area. The product is available for purchase, with Swiss Organic Partners Water-Soluble Hemp Extract bottled and distributed by Eden Aromata in the UK for EU.
The Eden Aromata Skin Serum is a highly potent multi-purpose high bioavailability product. The Serum can help to solve many medical issues as well as the ability to revitalise skin while stimulating the natural oxygenation and cell renewal. The product dramatically improves the way your skin feels.

The Serum contains natural ingredients, no artificial colours, aromas or preservatives are added. The product is subjected to third-party quality checks for cannabinoid potency, heavy metals, pesticides. The microbiological contamination is kept to a minimum because the content is minimalistic with just hemp extract. The slow THC extraction that retains the product as original as possible.
BIG SALE now on for the Roll-On 

ONLY £20

(after discount)
10ml Bottle with both Spray/Pump & Pipette

ONLY £20

(after discount)
30ml Bottle with both Spray/Pump & Pipette 

ONLY £36 

(after discount)
Please use Discount Code "Winter20"


Clever Botanics founding principle is to recognise the importance of high-quality ingredients and the need to scrutinise the supply chain processing from seed to sale. We have full trust in Eden Aromata experienced team and know they are 100% behind their products and ensures the hemp is grown under careful conditions indoor, greenhouse or approved outdoor. Products are  legal and organically produced and is tested in Switzerland, as well as by an external laboratory. Please the blog on the subject by clicking here.
Please note that due to high bioavailability of the water-based as against oil which makes it between 4 to 8 times better. However, please note that not enough scientific evidence is available to statistically prove this point, however, our testers have all been very happy with the performance of the product for their skin condition. 

Strength

Link
KS Medium  6%

10ml/30ml

600mg/1800mg

£24/£40

10ml- 30ml

KS 

Strong 12%

10ml/30ml

1200mg/3600mg

£32/£56



10ml - 30ml

KS 

Super Strong 24%

10ml/30ml

2400mg/7200mg

£48/£96

10ml - 30ml
24% Hemp Extract CBD Oil

10ml/30ml

2400mg/7200mg

£48/£104

10ml - 30ml
Water-Soluble SOP

10ml/30ml

2.5%(High Strength)

£24/£60

10ml - 30ml
Roll-On Serum
6ml
150mg

 £20

6ml

EA Serum Bottle
10ml/30ml
250mg/750mg
 £20/

£36

10ml - 30ml
SOP Full Spectrum 5%

10ml/30ml

500mg/1500mg
£18/ £32
10ml - 30ml
Price shown is calculated after deducting the seasonal 20% discount.
'KS' - Kanna Swiss  |  'SOP' - Swiss Organic Partners  |  'EA' - Eden Aromata
Eden Aromata is one of the UK's leading producers of organic Hemp-based products in the UK and has procured Swiss Organic Partners original products in Switzerland that has the worldwide reputation for, lovingly hand-grown and refined in the Alps of Switzerland. Eden Aromata does understand the importance of only using the finest natural ingredients, guaranteeing that their products meet the highest standards attainable in terms of quality, consistency and effect.
Product:
Water-based CO2 extracted from organic hemp extract. Mycelised with gum arabic. Dissolved in water. 
Volume - Spray/Pump Option:
 They come in 10 ml format (See the store for other 30ml option) 

Volume - Rollon Option:
 They come in 6 ml format

Usage: Chemical product, technical, external application to the skin. Not to be ingested like the Oil-based products under the tong

Ingredients: 
The recipe consists of 100% natural products Full Spectrum hemp extract 2.5% from Swiss Bio-Suisse organic agriculture Water Gum arabic, registered in the additive approval ordinance under E414. 
Strength:
 High Strength with 250 mg of CBD in the 10ml bottle and the 6ml roll-on has 150mg of CBD and other cannabinoids.
Type:
GMO-free, Vegan, Lactose-free.
Made in:
Swiss agriculture.
Appearance / colour:
liquid, transparent.
Administration:
 By both Pipette that has measurements and the Spray Pump. Spray pump makes it easier to apply to food and edibles and the pipette. Comes in a white bottle to ensure high reflection against a strong light source, heat and ultraviolet. The roll-on option is more suitable for a small area on the face or other. 
The innovative CBD water-based - general information about micelles technology 
The body produces its own micelles for fat digestion. As this process is energy-intensive and time-consuming, most of the important active ingredients are not absorbed. By using the micelles technology, the fat-soluble substances are combined into a water-based shell. This unique and patented process gives the cannabis Full Spectrum extract maximum bioavailability and the skin can absorb and process the soluble substances directly. 
Bio-Suisse guidelines 
The Hemp extract complies with the Organic Farming Ordinance. For Bio-Suisse products: the product complies with the Bio-Suisse guidelines for the production, processing and trade of Bio-Suisse products. 
Impurities 
The product is free of pesticides, heavy metals and other residues according to the regulations of Bio-Suisse. In case of pollutant loads caused by environmental factors, the tolerance values of the "EDI Regulation on maximum levels for pesticide residues in or on products of plant or animal origin (VPRH)" shall not be exceeded.
Microbiological agents 
The tolerance values of the HyV hygiene regulations are adhered to and the set value limits are not exceeded in any way. 
GMO 
Genetic engineering methods are used neither in the production (seeds) nor in the processing of products (in accordance with the ordinance of the Federal Department of Home Affairs on Genetically Modified Food - VGVL). 
All of their CBD products are developed from high-grade organic hemp, using supercritical CO2 extraction to produce premium CBD hemp oil with naturally occurring cannabinoids and no impurities.
All products are third-party lab tested to ensure that they contain less than 0.2% THC and are 100% EU Legal.
Please the blog on the subject by clicking here.
For quantity purchase, please apply for our 'Wholesale Account' by Clicking here.
Please see the Manufacturer'sThird Party Lab Report for the Hemp Extract CBD Roll-on & Spray/Pipette Serum by clicking here.
Please check the instructions and specification by clicking here.
It is selected as the 10 Best CBD Oils in the UK (2019)  Clicking here.
Tips and Directions for using your Serum.
Step #1 – Cleanse
Cleanse your skin with your favourite face wash and then exfoliate if necessary.


Step #2 – Apply Toner, Mist, or Water
If facial toners or mists aren't your style, you can dampen a wash-cloth with lukewarm water and gently pat on your face.
This step is crucial because damp skin, whether by toner, mist, or water, is up to 10x more permeable than dry skin alone and in turn will be more accepting of your nutrient-dense face serum. If applying to other skin areas, soon after a hot shower is also good.


Step #3 – Application of the Serum
The standard application is one pump/spray is equivalent to 1/8 ml or 3mg of CBD and is enough for 20 square cm area. If you are using the roll-on then just roll on, and when wet, then that is good.
If you are using the pipette, then 20 drops are equivalent to 1 ml. One drop should cover 8 square cm or just over one square inch.



Step #4 – Wait 5 Minutes


After you have entirely applied your Serum, wait 5 minutes for the product to fully absorb.



Step #5 – Moisturize


While some face and body serums contain moisturising agents but our product does not have any other than the water content. The product does not intend to replace your daily moisturiser or night cream or any other supplement that you feel is necessary for your skin.


Tip #1 – Patch Test
What makes face serums work so well are their highly potent and concentrated ingredients. Never apply to open cuts and other damaged areas of the skin. If you have a complex condition, then please consult your doctor before any test.



Tip #2 – Storing Your Serum




In order to get the most out of your face serum, store it in a cool, dry place. If you are using the roll-on, then please do not share with others for obvious reasons. After usage, please use the product within 60 days.
Note that both DPD/UPS require to have both your Email address and Mobile phone number for Track and Trace or if their driver needs to phone you. Please note that Saturday delivery by R.M. is not guaranteed due to COVID.
Delivery for the inland U.K. is from £3.90 for Tracked 48 (2-4 working days) & £4.90 for Tracked 24 (1-2 working days). For a small number of E.U. countries, the price is from £22.00. The rest of the world is 6-15 working days and please ask for details since we are not sure which country's custom is accepting the products and we need to research per request. Please note that due to fast-changing regulations, some E.U. states now reject CBD or Hemp related products. All European orders above £180 will be sent by DHL, which takes less than three days anywhere in Europe. There is no extra cost for you for using DHL. We will cover the excess charges beyond Royal Mail's £14. Please add a note and ask for the service at the checkout.  
Please note that during January due to high volume and COVID disruptions, We switch between providers to ensure prompt delivery. No weekend fulfilment due to COVID and will be shipped or Monday Morning.
Important Notice: Shipping to all EU countries are much more difficult and if you intend to purchase, please email us so we can explain the process. Sales (at) cleverbotanics.com

Normally, to be sure of next day delivery chances being high, please place your order before 9:30 am. We will do our best to make the 12:00 noon dispatch by Royal Mail. Also, if it is a not so busy day, then orders arriving before 3:00 pm could make 4:30 pm deadline, but this is not a guarantee, and we can only do our best. Also, please note that while Royal Mail has been good so far in delivering 90% of packages on time. There are 10% that are currently taking longer to reach you. 2% of shipments are also now lost in their system up from 1% before COVID disruptions. We will work with Royal Mail and yourself to resend the small number of missing packages. See the Blog "Impact of (COVID-19) Pandemic @CleverBotanics".
You can return your product up to 14 days after receiving your order. Please ensure that the products are NOT dismantled, or the seal is broken when relevant. Also, certain products, once exposed to air, will not qualify for returns.
We have now made it a policy to ensure all our shipped products are entirely discrete and no mention of the product name on the Royal Mail Dispatch Note. As a company whose primary mission is to reduce waste and be as close to zero-waste as possible, we have spent a lot of time looking at eco-friendly packaging options. We ensure that all the packaging is biodegradable and 99% plastic free.
This product is not for use by or sale to persons under the age of 18. This product should be used only as directed on the label. It should not be used if you are pregnant or nursing. Consult with a physician before use if you have a serious medical condition or use prescription medications. A Doctor's advice should be sought before using this and any supplemental dietary product. All trademarks and copyrights are the property of their respective owners and are not affiliated with nor do they endorse this product. These statements have not been evaluated by the FDA or EMA or the official Medicines Agency for your country. This product is not intended to diagnose, treat, cure or prevent any disease. Individual weight loss results will vary. By using this site, you agree to follow the Privacy Policy and all Terms & Conditions visible under T&C in the main menu. Void Where Prohibited by Law.