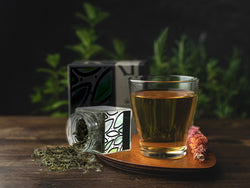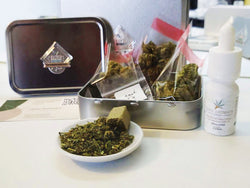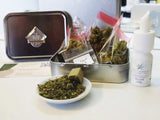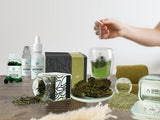 CleverBotanics
The Sativa bundle has 3 of our excellent Sativa Flowers to Energise you, and the package comes with either a free Hemp Shake and Hemp Hash or the 5g option also has the 5% Eden Aromata CBD Oil as the second free option. Sativa strains are said to provide stimulating, uplifting cerebral effects that pair well with physical activity, helping one feel more alert and uplifting to tackle a physical activity or creative endeavour.  It is also noted to help reduce anxiety or stress and increase creativity and focus, and extra Energy.

The three flowers, both the 2g & 5g options;
BIG BUNDLE SALE - 2g Bundle- ONLY £59.2  (after discount)
 5g Bundle- ONLY £137.6  (after discount)
Please use Discount Code "Autumn20"
'Strawberry Raccoon' Eden Aromata Hemp Flowers; 
We still have some stock of 'Strawberry Raccoon' The buds are a mixture of a fresh-looking medium and large variety. This is a Greenhouse product that, compared with the outdoor variety, has minimum impurity and pesticides. The strain is the high entourage variety that has a natural medium level of CBD but has a higher quantity of organic natural level of cannabinoids. The strain has a very natural taste and aroma with a full range of cannabinoids to provide an excellent entourage effect.

'V1' Eden Aromata Hemp Flowers;
V1 is a Sativa Dominant strain notable for its ability to Energise users without sedation and is known traditionally to be one of the most extreme Sativa-dominant strains. However, because the growers have crossed it with high CBD industrial hemp, the Sativa element is lowered a little. The V1 strain is a Greenhouse Organically grown, and balanced product that, like other greenhouse crops and has a natural ratio of CBD and other cannabinoids, ensuring a minimized usage of pesticides controlled soil use, resulting in a high Entourage effect. In countries where consumption is allowed, the reviews like it because it has a natural hint of lemon and lime flavours and an enjoyable fresh aftertaste. Overall the aroma is earthy and one of those organic strains that one does not have enough of smelling the bud, reminding one of a fresh autumn day walk in the forest.

'Lemon Haze' Eden Aromata Hemp Flowers; 
The product is a high-end Greenhouse product and does not have the impurities associated with outdoor strains. Historically, the hybrid Sativa dominant strain was created from a combination of Lemon Skunk and Super Silver Haze. This Sativa-heavy hybrid has become highly regarded in the cannabis industry due to its extremely high CBD content. The strong lemon taste makes Super Lemon Haze one of the most uplifting hemp strains in existence.
This Super Lemon Haze is a strong aromatic Haze with a decent citrus Limonene flavour and is slightly sweet, Lemon Haze is one well-rounded lady with genetics second to none, in our humble opinion.  The strain has the highest level of CBD we have seen in a flower and is therefore much loved, and there is indeed a very high demand for it.  
Free Options;
Free 'Sativa Caramel Hash Charas' for both 2g and 5g options
we still have stock of the newcomer in the Hash family, 'Caramel Hash Charas'. This latest batch has a high entourage, in particular, if it is with the free hemp shake. Lemon Caramel CBD + CBG is the only product in our current stock that has a reasonable amount of high entourage that also includes 3% of CBG or 30mg in every gram of the hash. The product is for that old-school Hashish lover with a really smooth and full flavour! It's got a different punch than the flowers.
The product is produced from traditional beating techniques. It is an old-style hash which means it needs to be heated with a lighter fire, and then it crumbles very easily, just like the usual old Charas. When heated, the released aroma is lovely and best mixed either with tobacco or the hemp shake we supplied. The texture is soft, and its dark shades on the outside and golden on the inside make it one of Hash Factory's top sellers. The aroma is intense, with notes of lemon and pine. Hash Factory Lemon Caramel is made from the Italian Biomass of Cannabis Sativa Linnaeus; however, testers say it has more hybrid effects.

The Hash option also comes with CBD Hemp Flower Hybrid Mix Shake for your Hash

Small CBD buds and flower shake is a mixture of all of our favourite strains! This shake comes from the same premium flower that is offered on our webshop; it's just too small to make the cut. Perfect for making your own pre-role extracts, tinctures or even vaping. All the goodness of these stellar hemp flowers is delivered in a smaller package! It is considered a 50/50 hybrid as it takes an average of our Indica and Sativa dominant strains.
Mixed products only from the products that we sell with associated lab reports available on the site. CBD and other cannabinoid content are an average of what we have for sale here in the shop.
BIG BUNDLE SALE - 2g Bundle- ONLY £59.2  (after discount)
 5g Bundle- ONLY £137.6  (after discount)
Please use Discount Code "Autumn20"
Alternatively, you can select a Free 10ml of Eden Aromata 6% Full Spectrum Oil only for the 5g option
The new Broad Spectrum, as well as the Full Spectrum options, of the 6% Hemp Extract CBD Oil with 600mg of CBD in the bottle is our best-selling range of CBD oil that also contains other useful cannabinoids to help most conditions. The new stock has arrived complying with the new UK standards for Broad-Spectrum or Full-Spectrum low THC content. The product is Full-Spectrum oil is the type of CBD product that contains the entire range of cannabinoids extracted from a single cannabis plant. It will have <0.2% THC.
We can also state the following that can also be found as crowdsourced data, but please note that none of the comments below is scientifically proven.

Indica;
Strains are believed to be physically sedating, perfect for relaxing with a movie or as a nightcap before bed. Indica is sold as having similar effects to a sedative, suitable for relaxation or trying to sleep.
Sativas;
Strains are said to provide stimulating, uplifting cerebral effects that pair well with physical activity, social gatherings, and creative projects. The effects are far more stimulating, helping one feel more alert and uplifting to tackle a physical activity or creative endeavour.
Hybrid;
versions can be helpful as they all offer qualities of both Indica and Sativa. Theoretically, you would require both Indica and Sativa, as the two opposing issues are better covered with a Hybrid variety. This variety can work both ways to energies as well as help with sleep or reduce pain a little.
Note that both DPD/UPS require to have both your Email address and Mobile phone number for Track and Trace or if their driver needs to phone you. Please note that Saturday delivery by R.M. is not guaranteed due to COVID.
Delivery for the inland U.K. is from £3.90 for Tracked 48 (2-4 working days) & £4.90 for Tracked 24 (1-2 working days). For a small number of E.U. countries, the price is from £22.00. The rest of the world is 6-15 working days and please ask for details since we are not sure which country's custom is accepting the products and we need to research per request. Please note that due to fast-changing regulations, some E.U. states now reject CBD or Hemp related products. All European orders above £180 will be sent by DHL, which takes less than three days anywhere in Europe. There is no extra cost for you for using DHL. We will cover the excess charges beyond Royal Mail's £14. Please add a note and ask for the service at the checkout.  
Please note that during January due to high volume and COVID disruptions, We switch between providers to ensure prompt delivery. No weekend fulfilment due to COVID and will be shipped or Monday Morning.
Important Notice: Shipping to all EU countries are much more difficult and if you intend to purchase, please email us so we can explain the process. Sales (at) cleverbotanics.com

Normally, to be sure of next day delivery chances being high, please place your order before 9:30 am. We will do our best to make the 12:00 noon dispatch by Royal Mail. Also, if it is a not so busy day, then orders arriving before 3:00 pm could make 4:30 pm deadline, but this is not a guarantee, and we can only do our best. Also, please note that while Royal Mail has been good so far in delivering 90% of packages on time. There are 10% that are currently taking longer to reach you. 2% of shipments are also now lost in their system up from 1% before COVID disruptions. We will work with Royal Mail and yourself to resend the small number of missing packages. See the Blog "Impact of (COVID-19) Pandemic @CleverBotanics".
You can return your product up to 14 days after receiving your order. Please ensure that the products are NOT dismantled, or the seal is broken when relevant. Also, certain products, once exposed to air, will not qualify for returns.
We have now made it a policy to ensure all our shipped products are entirely discrete and no mention of the product name on the Royal Mail Dispatch Note. As a company whose primary mission is to reduce waste and be as close to zero-waste as possible, we have spent a lot of time looking at eco-friendly packaging options. We ensure that all the packaging is biodegradable and 99% plastic free.
This product is not for use by or sale to persons under the age of 18. This product should be used only as directed on the label. It should not be used if you are pregnant or nursing. Consult with a physician before use if you have a serious medical condition or use prescription medications. A Doctor's advice should be sought before using this and any supplemental dietary product. All trademarks and copyrights are the property of their respective owners and are not affiliated with nor do they endorse this product. These statements have not been evaluated by the FDA or EMA or the official Medicines Agency for your country. This product is not intended to diagnose, treat, cure or prevent any disease. Individual weight loss results will vary. By using this site, you agree to follow the Privacy Policy and all Terms & Conditions visible under T&C in the main menu. Void Where Prohibited by Law.